Cheche Technology selected as one of the Annual Case Studies of the Best Financial Brands by China Banking and Insurance News
2022-05-10
The list of the Sixth Annual Case Studies of the Best Financial Brands in China, hosted by China Banking and Insurance News, was unveiled on May 10th, 2022. The Insurance Solution for New Energy Vehicles from Cheche Technology stood out as one of the award winners from over 500 cases.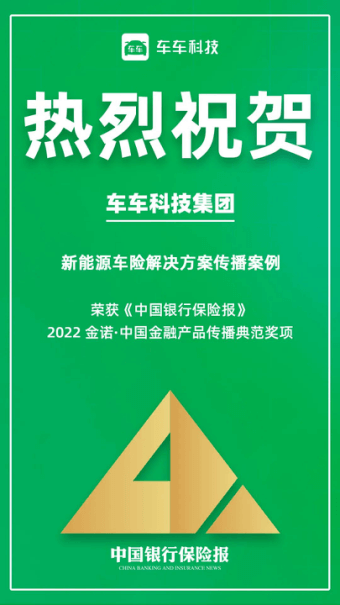 Since Cheche Technology introduced the insurance solution capabilities for New Energy Vehicles, it has received industry wide recognitions. Apart from several press coverage, it has been included in "White Paper on Building China NEV Insurance Ecosystem" released by iResearch. On March 14th, 2022, it was selected as one of the most innovative cases in banking and insurance sector by China Banking and Insurance News.
As a pioneering Insurtech company in digital auto insurance distribution, Cheche Technology has obtained many qualifications and awards as one of National High-Tech Companies, a member of Beijing Green Finance Association and one of the Leading Small and Medium Enterprises that specializes in innovative and unique sectors in Beijing. Since its inception seven years ago, Cheche Technology has developed cutting-edge digital insurance distribution capabilities and systems. Our offerings include digital insurance transaction platform, insurance intermediary SaaS system, AI-driven business intelligence system and one-stop solution for NEV auto insurance. Looking ahead, we will continue to accelerate the high-quality growth of new energy vehicles market by virtue of technological innovations. Making insurance transactions easier to promote better well-beings for our customers is our motto.