Cheche Technology Co., Ltd. rides the waves and wins the 13th China Cup Sailing Championship
2019-11-10
On November 10, 2019, the 13th China Cup Regatta Races concluded successfully in Dayalong Bay, Shenzhen, and the award ceremony was held on the stage of the village where the competition took place. More than 1,100 top sailors from 32 countries and regions gathered together in the pleasant sea breeze and witnessed extraordinary moments bearing glory and dreams. Cheche Technology Team won the title of Beneteau First 40.7 Group with very strong team performance.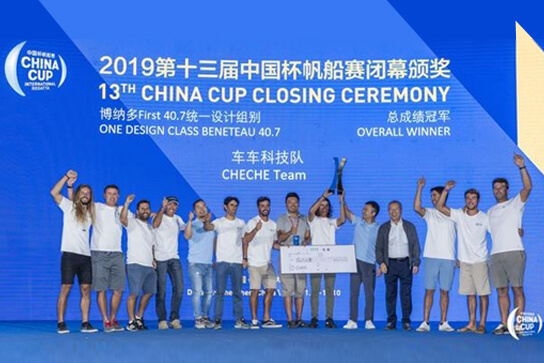 After five days of fierce competition at sea, the 13th China Cup Regatta have finally come to conclusion. With the rich experience and excellent performance of a team of sailors led by Captain Rayco Tabares, the Cheche technology team has proven invincible in the blue ocean, riding the wind and breaking waves by winning the championship! The sailing warriors of the Cheche Technology Team displayed great team spirit and perseverance throughout the event.
At the awards ceremony, Win Scott Perry, Vice President of the World Sailing Federation, talked about his personal experience: "At the opening ceremony five days ago, I said that I hope to be on this stage again on behalf of my team to receive the award. But the competition was fierce, and now I can only congratulate the Cheche technology team that won the first place. They really deserve it. "